Travel Video Marketing & Destination Promotion

With travel videos, consumers can see and "experience" a destination before going. Video tours have a big influence on travel decisions, so its important to add videos to your promotions. Travel video marketing is a powerful sales tool! Contact us today about adding videos to your travel company or product.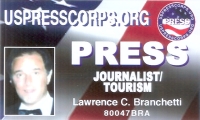 Meet Lawrence Branchetti
U. S Press Corps Journalist, International Tourism
GMP Director of Sales and Marketing N.A.
Lawrence comes with 35 years of experience in the European and South American markets. Working in executive positions in the airlines, ski resorts, wholesaler operators, and tour operators for Europe and South America, the knowledge that he possesses is vast, and is a tremendous asset to any client.
He has created new markets for banks, credit unions and other lending institutions on state levels. He can help your company develop new ideas and markets. Lawrence can guide you, and demonstrate what is best sales approach for your company.
Golden Media Art Production offers:
Video marketing services to travel marketers and media companies
Destination promotion, including hotels and tourist attractions
Media marketing promotional packages
Exposure in leading magazines, television and radio

Golden Media Art Production (GMAP) is an international company with locations in Europe and the United States. We a multi-lingual firm with a combined experience of 20 years in sales, marketing, and advertising, including voiceover commercials for television and radio, video taping, and professional entertainment. "Yes we do it all"!
Our Clients include:
Top Embassy figures in France, England, Germany, United States, Greece, and Finland, with Political figures in Europe, Senators and Congressman in United States, Chambers of Commerce, Marketing Officials of Disney World, Butterfly World, Old Spanish Monastery, Department of Tourism Visitors Bureau, Miami, Travel Associations, Tourist Office, Travel Agents, Hotels, Car Rentals, Cruise Line Companies, Travel Clubs, All Inclusive Resorts, Escorted Tour Companies and many more.
Our clients realize that modern marketing methods are the way of the future, and they use our creative knowledge to grow their businesses.
Our media marketing promotional packages are designed to deliver a complete solution; everything from promoting your destination, hotel, or tourist attraction.
We work with businesses like yours to reap the benefits of performance marketing.
Our company stands by our experience! Contact us today to discuss your next project.