Rocket Languages
Rocket Languages is a language learning company that was formed in early 2004 by Jason Oxenham and Mark Ling.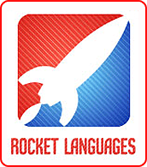 Rather than create traditional language learning software, they decided to approach language learning more creatively. In this system, all learning styles are engaged. It is packed with audio lessons, language and culture lessons, voice recognition, apps, grammar lessons, and even flash cards. Purchasing Rocket Languages will guarantee you lifetime access along with free upgrades. Rocket Languages is constantly striving to perfect their approach, especially concerning future technological advances.
They are a highly competitive company that has over 1,200,000 registered users of their products and are headquartered in Christchurch, New Zealand. Their US office is based out of California.
Rocket Portuguese... coming soon
Rocket Korean... coming soon
Rocket Hindi... coming soon
Rocket Arabic... coming soon
Rocket American Sign Language... coming soon
Español Episodes (an adventurous compliment to Rocket Spanish)... coming soon